Erotic massages at Maribelle - more than a touch of sensuality
We invite you to take a look at our wide range of massages.
In addition to numerous, purely health-optimizing applications, you will find special massages combining different orientations and needing special training. We have entered this sensitive area, and by doing so hope to bridge an important gap. We do not wish to deprive you of the chance for intense and holistic relaxation through touch, and we would be pleased to offer you our advice.
Exotic Massages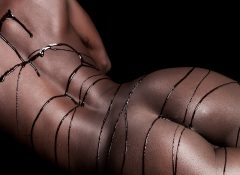 Treat yourself to something very special. Our Chocolate-Massage nourishes and relaxes at the same time and is an interesting change for lovers of exotic variants. Cocoa is one of the most substantial plants on earth and enjoys worldwide popularity as a "super food".
However, it is a little known fact that this fruit has advantages for both the inside and the outside of the body. Here with us you can enjoy it to its fullest extent, both inside and out.
To start with, we recommend the enjoyment of one of the finest 100% chocolates in the world. (Only cocoa and cocoa butter, no sugar or milk content). With a lot of care and tranquility, eating a piece of high-quality chocolate can be a holistic experience. While the chocolate slowly melts in the mouth, the diverse flavors of sweet, sour and bitter unfold. Close your eyes and follow the aromas. A meditative journey such as this relaxes and stimulates at the same time, once the ingredients in the cocoa begin to take effect.
The massage is performed with soft, stroking movements, especially to the back. Our well-tempered chocolate oil is a mixture of raw chocolate, unrefined coconut oil, jojoba oil, and shea butter. It smells delicious and is absorbed into the skin, almost without a trace. Any residue is removed with a damp cloth. Spoil yourself in every way! Your masseuse will pull out all the stops in this exotic massage and will, of course, include your intimate parts if you wish her to. You will feel reborn, and you will return strengthened and sustained to your everyday life.
In order not to reduce the effects of the mineral-rich chocolate oil, we recommend that you shower beforehand rather than after. Your skin will repay you with a youthful complexion and a velvety softness.
| Min | 60 | 90 | 120 |
| --- | --- | --- | --- |
| Prices | 150,- | 225,- | 300,- |
As with all our massages, we want to stimulate all your senses in the Japanese Nuru-Massage and to keep them stimulated, thus providing you with an unforgettable change of experience. The valuable, high quality Nuru gel is prepared from Nori seaweed and the Aloe Vera plant. It is constantly slippery, odorless and has a slight cooling effect, which is very pleasant and relaxing.
As an opening ritual, you are served original Japanese roasted Nori leaves with high-quality Tamari sauce and a cup of the finest green tea. The taste of the Japanese sea and the Far East will put you perfectly in the mood for what is to come.
In the pleasantly warm massage room, your masseuse will begin to pamper you with long stroking movements. Your whole body is touched lovingly and all skin areas stimulated. A warm, damp cloth, placed on your body, warms and relaxes you now from head to toe. Then, when the slightly cooling, slippery Nuru gel is applied by your masseuse to the still damp skin, you experience a unique tingling sensation. An prolonged, intensive body-to-body session is the high point of this massage and is celebrated as a solemn act. You are the center of this ritual, and will enjoy an exotic and exciting erotic massage with a happy ending, because the slippery Nuru gel imbues the final Lingam-Massage - performed by skilled hands - with the ultimate thrill.
| Min | 60 | 90 | 120 |
| --- | --- | --- | --- |
| Prices | 150,- | 225,- | 300,- |
Wellness Massages
With the Classic Full Body-Massage muscle tension and hardening of the muscle tissue are treated. As these problems occur particularly in the back, shoulder and neck areas, these places will receive special attention.
By kneading, tapping and shaking, the muscles are brought into passive motion and stretched. This creates an increased blood flow and warming of the local connective tissue, with the result that tension is released, waste products are removed and the body is galvanized. Abdomen, chest, buttocks and legs are loosened up with gentle, circular motions. Even the skin derives immense benefit from a treatment like this, thanks to the high quality, organically-nourishing oils that we use. All in all, this classic massage has a relaxing and revitalizing effect on body, mind and soul.
| Min | 60 | 90 | 120 |
| --- | --- | --- | --- |
| Prices | 100,- | 150,- | 200,- |
In addition to an analgesic and calming effect, the Reflexology-Massage has a detectable cleansing effect on our energy cycle. Each organ, every bone and every muscle equates to particular areas on the soles of our feet. Through therapeutic pressure on these areas, the organs are addressed directly, improving circulation and energy levels. This has a cleansing and harmonizing effect on the entire body. Blockages and negative thought patterns are gradually dissolved.
Hand Reflexology is also said to have an intense effect on our wellbeing. Just like the soles of the feet, the palms of the hands are equipped with specific areas which can exert an influence on many organs in the body. Pain reduction, increased concentration, harmonization of the sleep function and normalization of digestion, are just a few of the effects of reflex hand massage. A combination of the two treatments is a veritable feast for body and soul. Carried out by the lady of your choice, this massage works wonders.
| Min | 60 | 90 | 120 |
| --- | --- | --- | --- |
| Prices | 100,- | 150,- | 200,- |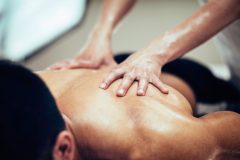 Sports-Massage A sports massage gets to grips in a somewhat "harder" way. Tension and related headaches and muscle pain often occur after physical activity. Incorrect stretching or even no stretching at all before and after exercise, or rapid temperature changes are all torture for the strained muscles. Here, the focus is on increased circulation in particular. As with the whole body massage, the entire body is stretched and relaxed. The difference from the relaxing full body massage is that the sports massage is faster, more rhythmic and stronger.
All health massages can be rounded off with a sensitive intimate massage, if required.
| Min | 60 | 90 | 120 |
| --- | --- | --- | --- |
| Prices | 100,- | 150,- | 200,- |
Optional Extras
| | |
| --- | --- |
| Anus and/or prostate or G-spot | 20,- |
| | |
| --- | --- |
| Costume request during massage | 20,- |
Outcall
Our quality service can also be enjoyed at home. We offer our mobile massages for House & Hotel.
One of our ladies will visit you within the Hamburg area for an additional cost per massage of 50 euros.
Just call us on +49 40 86 69 40 80.
You can also let us know your wishes at: kontakt@maribelle-hamburg.de.
We are happy to advise you and are always available for a visit.
Your Maribelle team